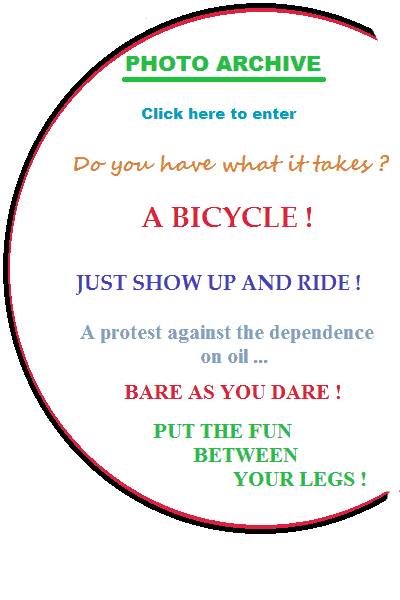 The WNBR Book

The World Naked Bike Ride book. It includes photos of past Toronto rides. Over 250 photos. A global protest against oil dependency and urban pollution, promoting greater cycling safety on our roads, and encouraging body freedom for everyone. This book visually describes the environmental awareness event, the history of how it started, the people who take part, and the motivations behind this very public demonstration.
WNBR BOOK - click here for more information








What's your message?

Making Toronto Smile... NAKED!

(Wear your clothes if you want!)

JUST SHOW UP AND RIDE!

WIKI Page For More Information


MeWe Social Network (Warning: Nudity allowed, uncensored.)


2017 JOIN THE RIDE Video


WNBR 2017 Toronto Poster


2014 Naked News


2015 Naked News


For more information email Gene Dare (gene.dare@yahoo.com)
or Leif Harmsen (leif@harmsen.net)

Time: Gather at 11 a.m. for elaborate body painting (professional body paint artist- reasonable fee), or bring your own paint, socializing, bike decorating etc. Bring food to share if you wish. Ride starts at 1 pm, following a route along several major streets in the downtown core. Location: It starts at Coronation Park (by the waterfront at the centre of the park)